Latin-Amerika krever endring av FN-avtalene for narkotika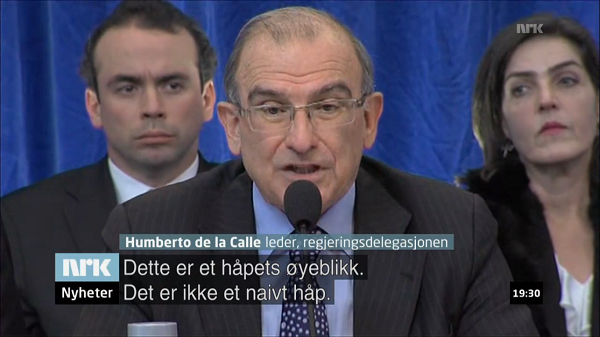 Colombia, Guatemala og Mexico har samlet fremmet forslag i FN om en reforhandling av FN-avtalene for narkotika fra 1961, og ber om internasjonal støtte.
Norges rolle i fredsforhandlingene for Latin-Amerika.
NRK 18. oktober 2012:
«Colombianske myndigheter og FARC-geriljaen holdt i dag en historisk felles pressekonferanse utenfor Oslo. De to partene har vært bitre fiender og kriget mot hverandre i snart 50 år. I dag startet de offisielt fredsforhandlinger.
Kampen om rettigheter til jorda for fattige bønder er et av de viktigste temaene i fredsforhandlingene.
For første gang på 10 år skal FARC og myndighetene møtes offisielt for å prøve å få en slutt på den 50 år lange krigen. Over 4 millioner colombianere er flyktninger i eget land som følge av krigen.»
Humberto de la Calle, leder for regjeringsdelegasjonen sier på NRK:
«Dette er et håpets øyeblikk. Dette er ikke et naivt håp. Vi vet at vanskene er enorme.»
Ivan Marquez, leder for FARC-geriljaens delegasjon:
«Vår visjon er å sette utviklingen av et helhetlig jordbruk på dagsordenen. Dette vil bidra til å dempe en sentral del av konflikten.»
Ifølge avisen Reforma ble det registret 12.539 narkotikarelaterte drap i Mexico i fjor, en økning på 6,3 prosent fra året før.
50.000 er drept siden 2006. Myndighetene har blant annet dokumentert en økning fra 136 drepte barn i staten Chihuahua i 2008, til 386 i 2010.
Redd Barna:
«Av de rundt 50 000 sivile som har blitt drept i narkokrigen i Mexico, er 4000 barn. 3700 barn er blitt foreldreløse og rundt 400 er rekruttert til narkobandene. Dette er høyere tapstall for sivile enn i land som Afghanistan og Irak.»
NRKs programleder spør «hvorfor forhandlingene er her i Norge?»
NRKs utsendte reporter tar spørsmålet videre og spør Dag Nylander:
«Norge og Cuba er tilretteleggere for denne fredsprosessen, og du har sittet sammen med partene på Cuba i nesten seks måneder, i innledende samtaler. Hvorfor er det viktig for Norge å spille en rolle i disse forhandlingene?»
Dag Nylander, spesialutsending for Norge svarer:
«Det er riktig at Norge sammen med Cuba har blitt spurt av partene om å bidra til å legge til rette for samtaler mellom den Colombianske regjering og FARC, for å finne en løsning på den væpnede konflikten i landet. Når partene spurte så mente vi det var riktig å svare ja. Norge har jobbet med Colombia i mange tiår, og har knyttet gode kontakter i mange miljøer, og følte derfor at det var mulig for oss å komme med bidrag som ville hjelpe partene fremover.»
1. oktober 2012
Joint declaration of Colombia, Guatemala and Mexico concerning UN revision on drug policy.
The governments of Colombia, Guatemala and Mexico, are convinced that transnational organized crime and in particular the violence it generates when carrying out their criminal activities, present a serious problem that compromises the development, security and democratic coexistence of all nations, and that the United Nations must urgently address this issue.
We believe that these results should culminate in an international conference to allow the necessary decisions in order to achieve more effective strategies and tools with which the global community faces the challenge of drugs and their consequences.
Vi erklærer:
1. At bruk av illegale rusmidler er et kraftig incitament for aktivitetene til kriminelle organisasjoner i alle verdens regioner.
2. At til tross for innsatsen til det internasjonale samfunnet over flere tiår, fortsetter bruken av disse stoffene å øke globalt, og genererer betydelige inntekter for kriminelle organisasjoner over hele verden.
3. At det enorme omfanget av økonomiske ressurser fører til at grenseoverskridende, kriminelle organisasjoner er i stand til å trenge inn i og korrumpere amerikanske institusjoner.
4. At det er svært viktig å iverksette effektive tiltak for å hindre den ulovlige strømmen av våpen til kriminelle organisasjoner.
5. Så lenge strømmen av inntekter fra narkotika og våpen til kriminelle organisasjoner ikke stoppes, vil de fortsette å true våre samfunn og myndigheter.
6. Følgelig haster det å revidere tilnærmingen som vedlikeholdes av det internasjonale samfunnet vedrørende narkotika for å stoppe strømmen av penger fra illegale narkotikamarkedet.
7. At denne revisjonen bør gjennomføres med soliditet og ansvarlighet, på et vitenskapelig grunnlag, for å etablere effektiv offentlig politikk på dette området.
8. At landene må intensivere arbeidet med å ytterligere styrke institusjonene og politikken i hvert enkelt land med hensyn til straff og forebygging av kriminalitet, til sine sosiale programmer innen utdanning, helse, fritid og arbeid, samt forebygging og behandling av avhengighet for å bevare samfunnet.
9. At stater bør støtte sin forpliktelse til å bekjempe transnasjonale kriminelle grupper med besluttsomhet og i henhold til prinsippet om felles og differensiert ansvar gjennom mekanismer for internasjonalt samarbeid.
10. At FN bør utøve det lederskap, som det er gitt i sitt mandat, i dette arbeidet og reflektere dypt for å analysere alle tilgjengelige alternativer, herunder regulatoriske eller markedstiltak, for å etablere et nytt paradigme som hindrer flyten av ressurser til organiserte kriminelle organisasjoner.
11. I denne forbindelse inviterer regjeringene i Colombia, Guatemala og Mexico medlemsstatene i FN til å snarest gjennomføre en høringsprosess som tar oppgjør med styrke og svakheter i dagens politikk som tillater volden som genereres av produksjonen, handelen og forbruket av narkotika i verden.
Guatemala News Se også: Count the costs
Jan Egeland, NUPI:
«Teller vi døde i kampen rundt narkotikamilliardene, har Mexico de siste årene vært åsted for en av verdens tre største kriger.[..] Narkotikaindustrien er en av de viktigste kildene til fortsatt krig – til at kriger trekker ut i tid.»
Røde Kors, 20.3.12:
«Kriminalisering stopper ikke folk fra å ta narkotika.»
Global Commission on Drug Policy:
«Som ansvarlig for befolkningens sikkerhet og helse, må dere stoppe kriminalisering av narkotikabruk.»
«Regjeringer må oppmuntres til å eksperimentere med modeller for legalisering av rusmidler for å undergrave organisert kriminalitet og trygge borgernes helse og sikkerhet.»
Se også:
Mexico og den blodige krigen mot narkotika
Endring av FN-konvensjonene for narkotika
Norges arbeid frem mot UNGASS 2016