Krigen mot narkotika er en borgerrettighetssak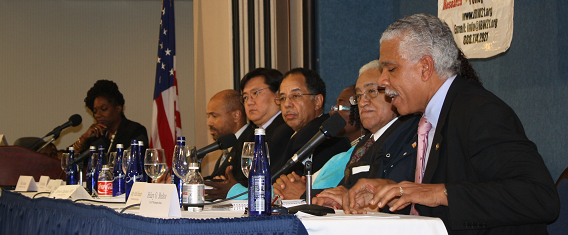 Det ble fattet et historisk vedtak da NAACP sluttet seg til listen av prominente organisasjoner og enkeltpersoner som tar til orde for å gå bort fra «Krigen mot narkotika».
NAACP passes historic resolution calling for end to War On Drugs.
The National Association for the Advancement of Colored People er en av de eldste og mest innflytelsesrike borgerrettsorganisasjonene i USA. Formålet til organisasjonen er å «sikre alle personer like rettigheter når det gjelder politikk, utdanning og sosiale og økonomiske forhold, samt å fjerne rasehat og rasediskriminering».
Benjamin Todd Jealous, president for NAACP:
«I dag har NAACP tatt et stort skritt mot likhet, rettferdighet og effektiv håndhevelse av loven. Den mislykkede narkotikapolitikken som for det meste har vært håndhevet i afrikansk-amerikanske lokalsamfunn må stanses og erstattes med evidensbaserte tiltak, som tar hensyn til de grunnleggende årsakene til rusmiddelbruk og rusmiddelmisbruk».
NAACP spør: Why Are 1 In 9 Young Black Men In Prison?
Neill Franklin, tidligere narkotikaetterforsker fra Baltimore og adm. direktør for Law Enforcement Against Prohibition (LEAP) snakket på NAAPCs møte om behovet for å få avsluttet krigen mot narkotika.
Fra Drug Policy Alliances rapport Arresting Blacks for Marijuana in California:
«In the last twenty years, California made 850,000 arrests for possession of small amounts of marijuana, and half a million arrests in the last ten years. The people arrested were disproportionately African Americans and Latinos, overwhelmingly young people, especially young men.»
«According to the Federal Bureau of Investigation's Uniform Crime Reporting Program, there were an estimated 1,663,582 arrests for drug abuse violations in the United States during 2009. Of these drug abuse violation arrests, 6.0% were for the sale/manufacture of marijuana and 45.6% were for marijuana possession.»
«Most people arrested for marijuana possession were not smoking in public; most simply had a small amount of marijuana in their pocket, purse or bag. Possessing a small amount of marijuana in one's pocket or bag is a legal violation, not a criminal offense. But quite often, when police stop and question a person, they say «empty your pockets» or «open your bag.» Many people comply with the officer's request. If a person pulls marijuana from their pocket or bag, it makes the marijuana «open to public view,» a crime. The police then arrest the person for this misdemeanor.»
«In 2009, the NYPD stopped and questioned over 575,000 people – 84% of them people of color.»
«Most people arrested for marijuana possession offenses are handcuffed, placed in a police car, taken to a police station, fingerprinted and photographed, held in jail for 24 hours or more and then arraigned before a judge. Almost 70 percent of those arrested are younger than 30 years old. 86 percent of those arrested are Black or Latino, even though research consistently shows that young whites use marijuana at higher rates.»

«This is not a War on Drugs – it's a War on People» sier Jack A. Cole, tidligere politisjef og undercoveragent, fra LEAP. Film: Anita Nyholt.
Se også:
LEAP – Law Enforcement Against Prohibition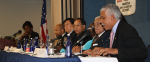 Leave a Reply