UNODCs World drug report og Count the costs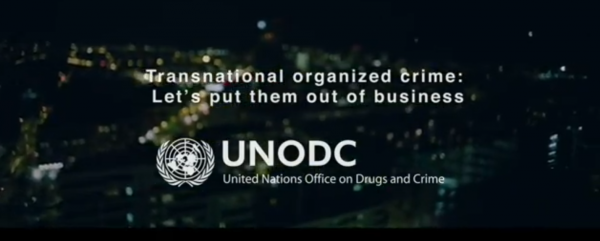 UNODC: Hvert år genererer grenseoverskridende organisert kriminalitet anslagsvis 870 milliarder dollar, truer fred og menneskers sikkerhet, fører til at menneskerettigheter blir brutt og undergraver økonomisk, sosial, kulturell og politisk utvikling i samfunn rundt om i verden.
Krigen mot narkotika mater dessuten HIV-/AIDS-epedemien.
UNODC
United Nations Office On Drugs and Crime UNODC har lansert en ny kampanje: Transnational organized crime – Let's put them out of business.
«The campaign is being rolled-out through online channels and international broadcasters with an aim to raise awareness of the economic costs and human impact of this threat. By dealing with issues such as human trafficking, the smuggling of migrants, counterfeiting, illicit drugs, environmental crime and illegal arms, it offers an insight into today's core criminal areas.»
«With an estimated value of US$ 320 billion a year, drug trafficking is the most lucrative form of business for criminals.»
World Drug Report
Illicit drug markets have global dimensions and require coordinated responses on a comparable scale. In this context, the World Drug Report aims to improve understanding of the illicit drug problem and contribute to more international cooperation for countering it.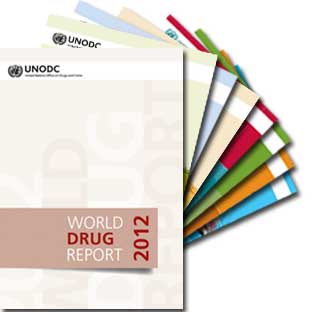 Alternativ rapport
The Alternative World Drug Report: Counting the Costs of the war on drugs
After over 50 years, the current enforcement-led international drug control system is coming under unparalleled scrutiny over its failure to deliver the promised "drug-free world", and for what the UN Office on Drugs and Crime (UNODC) describes as its negative "unintended consequences" on health, crime, development and human rights.
It is unacceptable that despite acknowledging these negative impacts, neither the UN nor its member governments have meaningfully assessed them to establish whether they outweigh the intended consequences. They are not included in the UNODC's flagship annual World Drug Report, and are not informing the high-level drug policy debate.
This Alternative World Drug Report fills this gap in government and UN evaluations by detailing the full range of negative impacts of the "war on drugs", and lays out the options for alternative approaches that could deliver better outcomes.
The Count the Costs initiative is a group of over 100 NGOs from across the globe that are calling on governments and the UN to count the costs of the war on drugs, and explore the alternatives based on the best possible evidence.